"The hero's journey always begins with the call. One way or another, a guide must come to say, 'Look, you're in Sleepy Land. Wake. Come on a trip. There is a whole aspect of your consciousness, your being, that's not been touched. So you're at home here? Well, there's not enough of you there.' And so it starts." Excerpt From: Campbell, Joseph. "A Joseph Campbell Companion: Reflections on the Art of Living." Joseph Campbell Foundation, 2011-08-01. iBooks.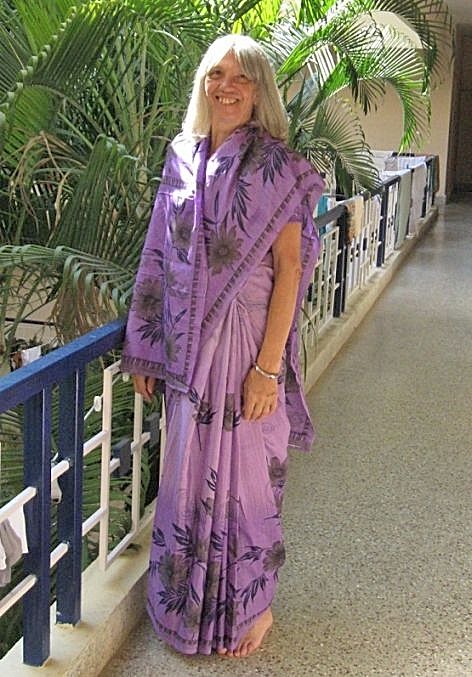 This is me at Prasanthi Nilyam Ashram, Puttaparti, India, December 24, 2012
From October 11, 2012 to December 27, 2012 I visited many temples, sacred cities, and several ashrams in India.  
(I just couldn't resist…the date 10/11/12 was just too auspicious to waste so I set it as my start date for the boldest, bravest adventure of my life…so far!)
Everybody said "My God, you're brave!" I wasn't really brave, I just wanted to go where I wanted to go but there was no one else going, so I went alone. I believe many women want to travel but don't have a friend available to join them, or a group going to the place they want to go! Don't be afraid to travel alone! Traveling alone is quite easy, and a fun adventure! Read my ebook and see how I did it!
Purchase Kindle Edition of
If you don't have a Kindle, you may download the reader apps for several phones and systems here: Amazon Readers
Pilgrimage To India: An American Woman's Adventure is the chronicle of my day-to-day experiences at divinely-inspired ashrams, timeless temples, and sacred cities as told in emails sent home during my journey throughout India, visiting nine cities and staying in three ashrams. And photos; lots of photos! (There are approx. 250 photos in the book.) It was a life-changing journey, with inspirational experiences and divine messages received in every ashram, city, and temple visited. My only regrets are that I didn't stay longer and I didn't take more photos. I guess I'll just have to go back!
Two reviewers rave:
I find Pilgrimage To India exceptionally interesting not only because of the uniqueness of her experiences, but also because of the scope of the author's genuinely expanded consciousness and heart. Michelle comes from a place of spiritual integrity with a respect for inner guidance and that 'power greater than us'! Consequently, 'between the lines' you'll discover meaningful messages of how to live the kind of life we all really desire, regardless of where you stand on the planet. I highly recommend Pilgrimage To India to anyone — whether you are focused upon the magic of India, new on your spiritual journey, or have been 'seeking' for a long time! – Richard Benson, DC, author of Stepping Into Your Personal Field of Abundance and Life, Liberty and the pursuit of Happiness
Pilgrimage to India: An American Woman's Adventure tells the wonderful story of one woman's journey to and in India, complete with pictures of exotic places with beautiful temples and detailed commentary that make you feel as though you are right there with her. But, more than an outward journey to an exotic place, this is a story of Michelle's inward journey to explore her own inner temple and uncover parts of herself long forgotten and hidden away. You actually have the opportunity as you read this book to watch her unfold and blossom, like watching a flower transform from bud to bloom! – Pat Benage, Personal Evolution Coach and author of Cure Your Depression and Being, Inspired: Finding Answers
Purchase Kindle Edition of
If you don't have a Kindle, you may download the reader apps for several phones and systems here: Amazon Readers
My God, You're Brave! are the words I heard from every single person who learned that I undertook this odyssey through India alone. I never thought of myself as brave; this was simply a journey that had to be, but then I saw this quote and wondered if making the commitment to go to India itself was the act of bravery. It certainly explains how and why this pilgrimage was so charmed:
"Nature loves courage. You make the commitment and nature will respond to that commitment by removing impossible obstacles. Dream the impossible dream and the world will not grind you under, it will lift you up. This is the trick. This is what all these teachers and philosophers who really counted, who really touched the alchemical gold, this is what they understood. This is the shamanic dance in the waterfall. This is how magic is done. By hurling yourself into the abyss and discovering it's a feather bed." ~Terence McKenna
India: Actual Pilgrimage Itinerary: October 11 – December 27, 2012
10/11/12 Depart USA 11:50 am 10/13/12 Arrive New Delhi 2:45 am, check into Hotel Adjanta 4:30 am. Cockroach in bathroom, businesses named after gods, RamaKrishna Plywood, Saraswati Sweets, etc. 10/13 – Taxi tour of Delhi – Vishnu Temple
10/14 Taxi from New Delhi to Guptakashi 6:30 am – 5:30 pm.
10/14 – 10/19 (5 days) Guptakashi/Kalimath for Navratri
10/16 – 10/24 Accommodations: Mrityunjaya Palace Hotel in Guptakashi (The only reservation made is the Mrityunjaya Palace Hotel & Yogananda Ashram.)
10/15 Kalimath temple complex where Kali kicked my ass around at 5:00 pm. Early by one day for Navratri.
10/16 – 10/18 Arati at Kalimath, also Fire Puja on 16th where I had a deja-vu experience about being there before
10/19 Travel bus Guptakashi to Rishikesh 6:30 am – 3:15 pm; bus broke down, waited at side of road for an hour for replacement bus w/ Kali altar. Checked into Ganesha Inn 4:00 pm landing right in the middle of where I wanted to be…minutes from temples and ghat.
10/19 – 10/28 Rishikesh – many temples and ashrams
10/20 Shopping along Lakshman Jhula
10/21 Researching local temples
10/22 Lakshman Jhula – 4 temples
10/23 Ram Jhula – several temples, Bhoot Nath Temple (Shiva)
10/24 Hired taxi – Nilkanth Mahadev (Shiva) and Kanji Puri (Durga)
10/25 Trivendi Ghat & Bharat Mandir Temple & Museum
10/28 Travel Rishikesh to Haldwani; bus Rishikest to Haridwar then to Haldwani, arrived 5:30. A short rickshaw ride to Kailash View Hotel which was a mess.
10/29 – 11/11 Haldwani taxi 7:45 am to Babaji ashram in Haidakahan arrived at 9:45 am
11/5 Parvati's Tree and Babaji's cave experiences.
11/10 Hike to Mt. Kailash
11/11 Travel by taxi Haidakhan to Haldwani – stay at Nanuk Hotel
11/12 – 11/13 Travel Haldwani to Varanasi
11/12 bus from Haldwani to Bareilly 9 am – 1 pm
11/12 –13 train (lower berth) Bareilly to Varanasi 11/12 3:30 pm–11/13 6:50 am.
This is the train ride where I had to walk down the aisle of the sleeper car and ask if anyone spoke English because we stopped for a while away from the station and I didn't know where we were or what was happening.
11/13 – 11/22 Varanasi – Hotel Haifa, Assi Ghat 8:30 am
11/15 – Durga Mata Temple, Saaket Mochan Temple (Hanuman), Kashi Viswanath Temple
11/16 – took gifts of statues and beads to Ganga and did cleansing/blessing
11/17 – Tulsi Manas Mandir (Ram temple), Krishna Cleanses Ganga on the ghats
11/19 – Chaat Festival; immersed myself in the Ganga (mid-point of trip, 37th day)
11/21 – classical music concert at music school
11/22 Travel Varanasi to Gaya train 4:50 pm to 10:40 pm w/ young Russian couple. Missed our late train and managed to get on this one w/ help of Visitor Center man.
11/23 – 11/25 Bodh Gaya – stopped here at suggestion of Shakti Guru, young man at Babaji ashram who helped with train reservations. Hotel Rose Valley 12:15 am
11/23 Taxi tour of eight Buddhist temples in Bodh Gaya.
11/25 – 11/26 Travel train (upper berth) to Kolkata 10:30 pm – 6:30 am At station, chatted w/ young girls traveling w/family, their older brother took me to the place where my sleeper car would arrive. Took pre-paid taxi to ashram.
11/26 – 12/6 Calcutta Yogananda ashram Yogoda Satsanga Math–Dakshineswar 8:30 am Did a lot of sight-seeing with a Canadian family, Karen & Doug, son Orion & his girlfriend.
11/27 – Kali Temple, Yogananda's house, Levitating Saint's temple/room
11/29 – Serampore neighborhood of Kolkata: House of Yogananda's uncle Smritir Mandir, Swami Yukteshwar's former ashram Rai Ghat and Banyan Tree Panthi Boarding House (mostly destroyed)
12/1 – Belur Math and museum included Ramakrishna, Holy Mother Sri Sarada and Swami Vivekananda
12/6 Travel by plane Calcutta to Mysore 7:15 am – 9:35 am; took pre-paid taxi to The Green Hotel in Mysore, arrived 2:15 pm
12/6 – 12/17 Mysore – 12/6/- 12/9 The Green Hotel; 12/9 – 12/16 Aishwarya Residency Hotel
12/7 – climbed Chamundi Hill, 1000 steps, and ashram kirtan.
12/11 – St Philomina Cathedral 12/12 – Mysore Palace and kirtan with Julie and friends.
12/13 – Karanji Lake Nature Park & Mysore Zoo
12/14 – Ancient temples: Kesava, Srikanteshwara, Vaidyanatheshwara
12/16 – Mysore Violin Brothers concert
12/17 Travel Mysore to Puttaparti taxi 9:00 am – 4:15 pm
12/17 – 12/26 Puttaparti, Prasanthi Nilayam, Sai Baba ashram Participated in multiple activities; bhajans, meditation, darshan, informative talks
12/22 – purchased harmonium
12/24 & 12/25 – Wonderful holiday programs and special Christmas Eve dinner.
12/26 Travel by taxi Puttaparti to Bangalore airport 11:00 am – 1:15 pm
12/26 Travel Bangalore to New Delhi 7:30 – 10:00 pm flight
12/27 Depart New Delhi, India at 4:15 am, return to U. S. A. Arrive Redmond, Oregon at 6:25 pm same date!
Purchase Kindle Edition of
If you don't have a Kindle, you may download the reader apps for several phones and systems here: Amazon Readers